Laptop Repair Loughborough
STORMComponents are experts in repairing laptops, netbooks and other portable devices.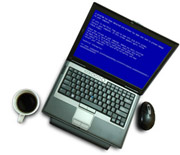 Laptops, like any other computer, can be infected with viruses, develop instability or suffer from poor performance as they age, but laptop computers can also develop problems specific to their design. Issues such as batteries not holding charge, ports failing to work, cracked screens, faulty touchpads, sticky keys and damaged keyboards are all quite common with laptops, and because of their compact size; they are prone to overheating, graphical issues and system instability as well.

STORMComponents gives you a 60-day guarantee on all repairs and upgrades, and our free tech support and 'no fix - no fee' policy applies to all customers.



If your laptop is damaged or isn't behaving, ring us today.
Gave me free and helpful advice before fixing my computer monitors at a real bargain price. Speedy service, friendly and honest relations.
Phillip Boshoff
Quickly identified that a new hard drive was required. I expected to have lost everything but Tom was able to retrieve photos etc for me. All in all a fast, efficient and reasonably priced service. I will definitely use again and have no qualms in recommending Storm.
C Evans
View Testimonials
free tech support



quick contact

pc repair service
60 day guarantee
no fix - no fee
Click here to find out more!