Laptop Repair Loughborough
STORMComponents are experts in repairing laptops, netbooks and other portable devices.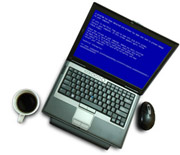 Laptops, like any other computer, can be infected with viruses, develop instability or suffer from poor performance as they age, but laptop computers can also develop problems specific to their design. Issues such as batteries not holding charge, ports failing to work, cracked screens, faulty touchpads, sticky keys and damaged keyboards are all quite common with laptops, and because of their compact size; they are prone to overheating, graphical issues and system instability as well.

STORMComponents gives you a 60-day guarantee on all repairs and upgrades, and our free tech support and 'no fix - no fee' policy applies to all customers.



If your laptop is damaged or isn't behaving, ring us today.
I'd like to start my review by saying the service I received throughout the whole process of me having my computer built by Tom at STORMComponents was perfect. I'm not one who knows a lot about computers so I needed someone who could help me get a computer built with good components for my games and at a good price. Tom gave me the best quote and within days I had a proposal and parts were ordered and put together soon after; I was even able to get custom colour LEDs of my choice! If anyone is considering a place to go for their computer needs, I would most definitely recommend STORMComponents. Great service at a great price :).
Ricky Trent
Very happy with excellent advice as to products required as well as expert knowledge regarding setting up and running. All topped off with very good value for money. Top rating all around.
John Haynes
View Testimonials
free tech support



quick contact

pc repair service
60 day guarantee
no fix - no fee
Click here to find out more!