Custom Computers Loughborough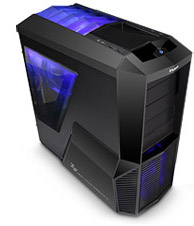 STORMComponents can build custom computers of all sizes and to fit all budgets. We specialise in high-end gaming setups, but have also built dozens of home and office computers.

We offer guidence, suggestions, and pre-designed builds to anyone who isn't sure about what to put into their computer, but we're also open to detailed specifications from those who know exactly what they want, and just need a skilled hand to build it.

STORMComponents sources components at considerably lower costs than retailers offer to the public, and this, coupled with our low labour costs, allows us to build and ship custom computers with savings as high as 50% when compared to their branded equivelant!

We can offer you the choice of several operating systems including Windows XP, Windows 7, Windows 8, Linux and Ubuntu, or if preferred - we could leave the software installation up to you.


Quickly identified that a new hard drive was required. I expected to have lost everything but Tom was able to retrieve photos etc for me. All in all a fast, efficient and reasonably priced service. I will definitely use again and have no qualms in recommending Storm.
C Evans
Windows 7 substituted for Windows XP. Computer cleaned after a hacking incident. In both cases the work was done speedily and successfully.
Michael Hockaday
View Testimonials
free tech support



quick contact

pc repair service
60 day guarantee
no fix - no fee
Click here to find out more!